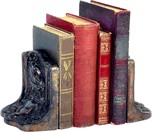 www.segnalo.it - Politica dei servizi sociali - Pagine
I GULAG SOVIETICI
---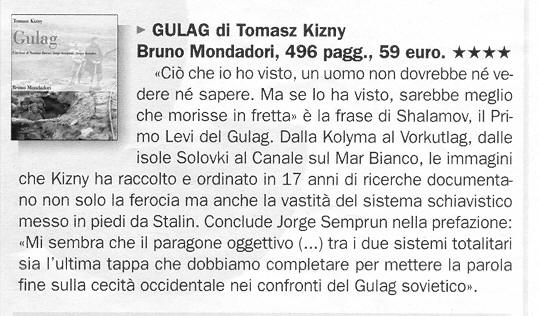 The Other Killing Machine
Steven Merritt Miner in The New York Times
May 11, 2003
Applebaum ' s book weighs in heavily in support of Solzhenitsyn on almost every point, and her account is backed not only by a careful use of the vast memoir literature but also by a thorough mining of the long-closed Soviet archives.
[read review]
Remembering the Gulag
Hilton Kramer in The New Criterion
May 2003
It is Ms. Applebaum's distinctive accomplishment to have traced the tortuous history of this anti-civilization in scrupulously documented detail from its Bolshevik beginnings to the Great Terror, the Second World War, the early years of the Cold War, the death of Stalin, the Thaw that followed, the era of the Soviet dissidents, and the final collapse of the Soviet regime.
[read review]
The Other Camps
Andrew Nagorski in Newsweek
April 28, 2003
Anne Applebaum ' s 677-page "Gulag: A History," the most authoritative--and comprehensive--account of this Soviet blight ever published by a Western writer, puts the Gulag in its rightful, horrifying place.
[read review]
Russia's unwilling builders
Stefan Wagstyl in Financial Times
April 24, 2003
Applebaum bases her work on careful research, drawing on memoirs, interviews and recently released official documents....With great skill, she re- creates the daily details of camp life - the cold, the dirt, the disease, the obsession with food. She also finds moments of intense light: men and women who found love in the camps...
[read review]
Seasons in Hell
David Remnick in The New Yorker
April 14, 2003
In a new book, "Gulag: A History" (Doubleday; $35), Anne Applebaum, an op-ed columnist at the Washington Post, provides an ambitious and well-documented survey of the forced-labor system from its inception until its elimination under Gorbachev.
[read review]
Worked to Death
from The Economist
April 3, 2003
"Gulag" is lucid and well-researched, and its moral message is clear without being obtrusive. It should become the standard history of one of the greatest evils of the 20th century.
GULAG: A History is a narrative account of the origins and development of the Soviet concentration camps, from Lenin to Gorbachev. Based on archives, interviews, new research and recently published memoirs, the book explains the role that the camps played in the Soviet political and economic system. It also describes daily life in the camps: how people lived, worked, ate, slept, fought, died and survived.
GULAG: A History is due to be published in the April of 2003, by Doubleday in the US and Penguin in the UK . Translations will follow in German, French, Italian, Dutch, Polish, Russian and Hungarian.

Reviews: