Michel Petrucciani
28 dicembre 1962 - 6 gennaio 1999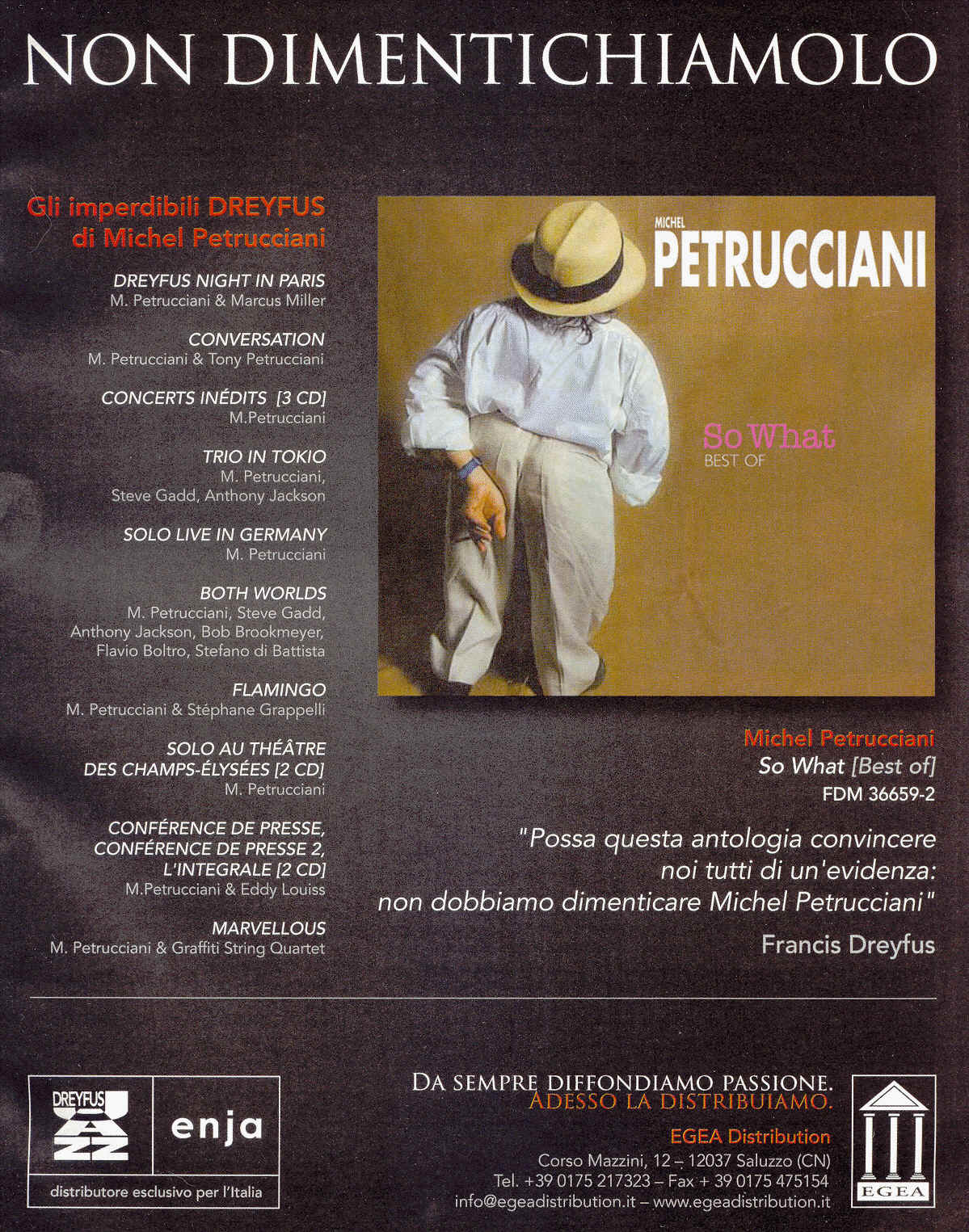 ---
---
Michel Petrucciani
b. 28 December 1962, Montpelier, France d. 6 Jan 1999, New York, New York
After playing with Kenny Clarke and Clark Terry at the age of 15, Petrucciani moved to Paris, recorded his first album, and formed a successful duo with Lee Konitz just two years later. Moving to California in 1982, he joined Charles Lloyd's new quartet. However, it was a solo performance at Carnegie Hall as part of the Kool Jazz Festival that resulted in widespread critical acclaim. More recently Petrucciani has signed a contract with Blue Note Records, and worked with Wayne Shorter in Manhattan Project. He is a melodic, thoughtful pianist influenced by Herbie Hancock.
New York Time
Michel Petrucciani, Jazz Pianist, Is Dead at 36
By STEPHEN HOLDEN
NEW YORK -- Michel Petrucciani, a French jazz pianist and composer with an international following whose keyboard virtuosity earned him comparisons to Art Tatum and Bill Evans, died Wednesday at Beth Israel Hospital in Manhattan. He was 36 and lived in Manhattan.
The cause was a pulmonary infection, said a representative of his French record company, Francis Dreyfus Music.
Petrucciani was a national hero in France, and his records were best sellers in Europe. French President Jacques Chirac was among the many who paid tribute to him Wednesday, praising his ability to "renew jazz, giving himself up to his art with passion, courage and musical genius." He called him an "example for everyone."
The career of Petrucciani, who was considered one of the great romantics of the jazz piano, lourished in spite of a severe physical disability. The pianist was born with osteogenesis imperfecta, also known as "glass bones," a disease that stunted his growth (he was only three feet tall and weighed barely 50 pounds) and weakened his bones. Petrucciani had to be carried onto the stage, and he used a special attachment to work the sustaining pedal of the piano.
The ailment didn't affect his hands, however, and he played with a seemingly inexhaustible vigor and enthusiasm.
Petrucciani was born to Italian parents in Montpellier, France. His family was musical, and as a child he played the drums in a band with his father, Tony, a guitarist, and his brother Louis, a bassist. After studying classical music for eight years, he turned to jazz full time because he loved to improvise and wanted to write his own music.
He began his professional career when he was 15, playing for the drummer and vibraphonist Kenny Clarke.
Moving to Paris, he recorded his first album at 17, and he was appearing regularly at European jazz festivals while still a teen-ager. After a visit to New York he toured France in a duo with the saxophonist Lee Konitz, with whom he recorded an album of duets.
While in California in 1981, Petrucciani was discovered by the saxophonist Charles Lloyd, who made him a member of his quartet. They toured Europe and recorded an album, "Montreux '82." One of his most acclaimed early recordings, "100 Hearts" (Concord), was an album of solos.
Between 1986 and 1994, he made seven albums for Blue Note Records, including "Power of Three" (with Wayne Shorter and Jim Hall), and an acclaimed album of original songs, "Michel Plays Petrucciani" (Blue Note).
In 1994 he was made a knight of the Legion of Honor in Paris.
For all the comparisons to Bill Evans, Petrucciani had found his own style, which was more aggressive, fuller and sunnier than that of his idol and incorporated secondary influences as disparate as McCoy Tyner and Debussy.
A marriage to Gilda Butta, a pianist, ended in divorce.
He is survived by his companion, Isabelle, his publicist said, and by a son, Alexandre, and a stepson, Rachid Roperch, both of Paris, from a previous relationship.
At the time of his death, he was hoping to set up an international jazz school in France.
"It's my life's work," he said. "Jazz is dying out."
Pianist Michel Petrucciani Dies At 36
by Drew Wheeler
Michel Petrucciani, the French jazz pianist whose
diminutive stature stood in sharp contrast to his
powerful, lyrical playing style, died in New York on
Jan. 6 while hospitalized for treatment of a lung
infection. He was 36.
Petrucciani's small size--around three feet tall--was
a result of his being born with osteogenesis
imperfecta, a condition which causes a calcium
deficiency that renders the bones of its sufferers
excessively brittle and can cause stunted growth.
Although the weakness of Petrucciani's bones
sometimes made it necessary for him to be carried
to the piano bench, listeners could be assured that
his musical skills were ever intense and vibrant.
His hands were strong enough to express a full
range of the piano's dynamics and his feet pressed
the instrument's pedals by means of extensions.
His emotive, sometimes romantic style has been
been likened to that of Bill Evans.
Petrucciani, the son of jazz guitarist Antoine
Petrucciani, was born on Dec. 28, 1962 in the
French town of Orange, but was raised in the town
of Montelimar. While his healthier peers were
outside playing, the home-bound Petrucciani would
practice the piano. He played in a family band with
his father and bassist-brother, and his first
professional appearance was at a French jazz
festival that paired him with veteran trumpeter Clark
Terry. At age 17, Petrucciani had made his first
recording and subsequently toured France with
noted altoist Lee Konitz. In 1982, Petrucciani
moved to the Big Sur area of Northern California,
where he met reedman Charles Lloyd, who had
largely disappeared from the jazz scene.
Petrucciani is credited with drawing Lloyd back
into the public eye and played in Lloyd's quartet for
three years. He then moved to New York to form
his own group.
Petrucciani recorded a series of albums for the Owl
label, and then was signed to Blue Note Records
in the mid-'80s. His Blue Note releases included
such solo albums as Michel Plays Petrucciani
and Promenade With Duke. He was backed by a
band on other Blue Note albums, including
Pianism (with Palle Danielsson and Eliot
Zigmund), Power Of Three (with Jim Hall and
Wayne Shorter) and Music, on which he was
joined by many players, including Joe Lovano,
Eddie Gomez, Adam Holzman, Gil Goldstein and
Tania Maria.
His most recent releases have been for producer
Francis Dreyfus' label, Dreyfus Jazz. These have
included Au Theatre Des Champs-Elysees and
1998's Both Worlds, which features the
contributions of trombonist/arranger Bob
Brookmeyer. Petrucciani also appeared on
albums by Lloyd, Lovano, Stephane Grappelli
and Eddy Louiss. He is survived by his wife
Erlinda and two children.
---
LA SUA MUSICA NEI CD:
* PETRUCCIANI MICHEL (formazioni varie), THE BLUE NOTE YEARS, BLUE NOTE 1980
* PETRUCCIANI MICHEL, J.F.J. CLARK, A. ROMANO, MICHEL PETRUCCIANI, OWL RECORDS 1981
* PETRUCCIANI MICHEL, ORACLE'S DESTINY, 1983
* PETRUCCIANI MICHEL, NOTES N' NOTES, EMI 1984
* PETRUCCIANI MICHEL, PIANISM, BLUE NOTE 1985
* PETRUCCIANI MICHEL, LIVE AT THE VILLAGE VANGUARD, GEORG WEIN 1985
* PETRUCCIANI MICHEL, P. DANIELSSON, E. ZIGMUND, LIVE AT VILLAGE VANGUARD, 1985
* PETRUCCIANI MICHEL, P. DANIELSSON, E. ZIGMUND, PIANISM, 1985
* PETRUCCIANI MICHEL, POWER OF THREE, BLUE NOTE 1986
* PETRUCCIANI MICHEL, J. HALL, W. SHORTER, POWER OF THREE, 1986
* PETRUCCIANI MICHEL, R. HAYNES, A. FOSTER, G. PEACOCK, E. GOMEZ, J. ABERCROMBIE, MICHEL PLAYS
PETRUCCIANI, BLUE NOTES 1987
* PETRUCCIANI MICHEL, ESTATE, IRD RECORD 1989
* PETRUCCIANI MICHEL, F.DI CASTRI, A. ROMANO, ESTATE, 1989
* PETRUCCIANI MICHEL, DATE WITH TIME, OWL RECORDS 1991
* PETRUCCIANI MICHEL, A. HOLZMAN, S. LOGAN, A. M'BOOP. V. JONES, LIVE, BLUE NOTES 1991
* PETRUCCIANI MICHEL, PROMENADE WITH DUKE, BLUE NOTE 1993
* PETRUCCIANI MICHEL, D. HOLLAND, T. WILLIAMS, V. PAGLIARIN, N. KRASSIK, P. LEMARCHAND, V. COURTOIS,
MARVELLOUS, DREYFUSS JAZZ 1994
* PETRUCCIANI MICHEL, E. LOUISS, CONFERENCE DE PRESSE, DREYFUSS JAZZ 1994
* PETRUCCIANI MICHEL, AU THEATRE DES CHAMPS-ELISEES, DREYFUSS JAZZ 1995
* PETRUCCIANI MICHEL, MICHEL PETRUCCIANI, MUSICA JAZZ 1996
* PETRUCCIANI MICHEL, S. GRAPPELLI S., FLAMINGO, DREYFUSS JAZZ 1996
* PETRUCCIANI MICHEL, S. GADD, A. JACKSON, B. BROOKMEYER, F. BOLTRO, S. DI BATTISTA, BOTH WORLD,
DREYFUSS JAZZ 1997
* PETRUCCIANI MICHEL, LIVE MICHEL PETRUCCIANI, DREYFUSS JAZZ 1998
* PETRUCCIANI MICHEL, PETRUCCIANI LOUIS, WHITE LENNY, TRIO, DREYFUSS JAZZ 1999
* PETRUCCIANI MICHEL, NIELS HENNING ORSTED PEDERSEN, DUO, DREYFUSS JAZZ 1999
* PETRUCCIANI MICHEL (in molte formazioni), A MICHEL. LA MUSICA PIU' BELLA DI MICHEL PETRUCCIANI, EMI
1999
* PETRUCCIANI MICHEL, SOLO, DREYFUSS JAZZ 1999
* PETRUCCIANI MICHEL, PETRUCCIANI TONY, CONVERSATION, DREYFUSS JAZZ 2001
---